Oh, Nordstrom's, how you tease a poor girl so with your sales and semi-sales and preview sales...
This Bard was tempted, she was persuaded, she was seduced, and she spent a little money today (thought not too much and not without some elbow grease). You see, this was the third trip made to Nordstrom's since the sale began. Naturally, the Bard wouldn't dare let weeks go by and grubby little mitts steal her rightful sale shoes. (Naturally, the Bard addresses herself in the third person to avoid taking blame for all of her expenditures.)
But today, the real magic happened, and all of the sizes and prices fell into place- three Nordstrom locations and goodness knows how much gas money later.
One for the Money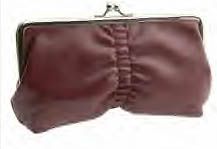 I fell in love with this 'Westport' wallet the minute I laid eyes on it. I actually salivated over the burgundy, but my purse is a soft black leather, so I had to get it to match.
Two for the Show
I actually adored this shoe in the walnut color, but in the end I realized that I never wear browns. There was a time when I was prancing around in the ivory version of the shoe, but it's not white, it's cream, and I have so few cream-colored wardrobe items to match it. I knew I needed to be practical- and thus, purchased the black (as I usually do). I love this 'Seanna' shoe because it's got all of the great aspects of the ballet shoes, without being flat, which I notoriously abhor. They look ready to go
en pointe
with the grommets and that cutesy bow!
This shoe is so great because it's a heel but it comes off as casual. The shade of red will pass off as a neutral-chameleon, for the rare occasions when I wear brown or other colors in my autumn palette. When I went up to buy it, I was told it was part of the sale for $39.90, but it's actually not on sale at all and $59.90. Which isn't bad, but I decided to hold off and concentrate on the sale for now, and buy shoes I can buy anytime later. But my mind keeps coming back to it... I kind of fell in love. I promised the shoes that I would even wear stockings with them. That's true love, I tell you what. So maybe I'll go back...
Three to Get Ready
A close runner-up to the previous two was this more-expensive 'Princess' by Stuart Weitzman. I couldn't find the patent red in my size, so I kind of gave up. I can't drop that much money via the internet, once I've had time to think about it. I can only impulse-spend it, and therefore, the red patent shoes were out. I loved them, though. And their sisters, in patent black. And their cousins, with the peeptoe and the 50's pinup style heel. But I'm not quite ready to blow $139 on them right now.
Now go, cat, go!
... to Nordstrom's. Because the sale ends on the 30th. Perhaps this Bard will see you there... as she makes absolute sure she didn't leave anything behind! And now she's wanting a belt...
But if I don't get back in time, at least the Macy's sale starts on the 27th. See you all there around the boots 'n' belts!