It was one of those weeks where you have something to do before or after work every single day, and it all piles up until you're exhausted and just want to hide under the blankets. Or it was for me, at least. I'm not sure when NYC had the brilliant idea to put things like Restaurant Week and Broadway Week (it's new!) and Social Media Week and Fashion Week all back to back to back in a series like we're not all just trying to still get our bearing from the holidays.
Here are some highlights:
Dinner at Crepes du Nord.
First of all, I was stunned by how tiny this place is, wedged into the Financial District like it doesn't even know how it got there, with about ten tables tops, a very tiny kitchen right in the front window and a cash register that has nowhere else to be but halfway up the front steps between the chef and the diners. Poor waitress! She was actually rather sweet, my friend and I enjoyed good customer service as well as ratatouille crepes (honestly not the best I've ever had, maybe that was the "Scandinavian" in it, but filling and fairly priced nonetheless) and a very delicious dessert crepe with bananas and raspberries and nutella and vanilla bean ice cream. Plus a bottle of Syrah, of course. Click the picture above for a more knowledgeable and in-depth review from the Eternal Optimist at Stuff I Ate.
Assouline at the Plaza.
I like showing up to events with no idea what to expect; no seriously, my experience with highly publicized events (see
here
and
here
and below) is usually utter disappointment. Instead, I had a lovely night, meeting interesting new people that I already have plans to see again (such as the namesake ladies behind
Lerebours Antiques
and
Alzerina Jewelry
, who I will of course tell you more about at a later date) and seeing the Plaza Hotel for the very first time. Plus the bartender told me I was beautiful as he refilled my glass of Sauvignon Blanc past the open bar cut-off, and if that doesn't just make any night special I don't know what would. (Oh, a fast anecdote/word of warning: I believe the doors to the ladies' lounge in the lobby of the hotel do not lock, because I managed to walk in on squatting women. Twice. That, or I really did have one too many sips of wine!)
Drinks at the W.
The same night as the aforementioned event, I went to close the night out with a nightcap at the W midtown, thinking it might be novel to compare this Living Room to the one downtown (
visited two weeks ago
). Despite pricey drinks, the bartender was fast and friendly and the crowd was a fun mix of business tourists and my-age locals looking for a decent scene on a Wednesday night off Times Square, so I had a nice time and, better yet, a quick commute home.
Compulsion with Mandy Patinkin.
GO SEE THIS. Seriously, the
Public Theater
has done a marvelous job with this play about Sid Silver, a fictional author and former marionette-maker who struggles to bring Anne Frank's diary to the world in the aftermath of WWII and during Israel's establishment, who devolves into his own paranoia and obsession. The show is fast-paced and Patinkin as Silver makes you feel deeply for a man who is, quite frankly (you see what I did there?), pretty despicable. And sort of relateable and largely flawed and human too. If you think you know Patinkin's acting range think again; he's truly a treasure to see live. And my only minor complaint is one thing that I'll probably never, ever say again: I think the show needed more puppets.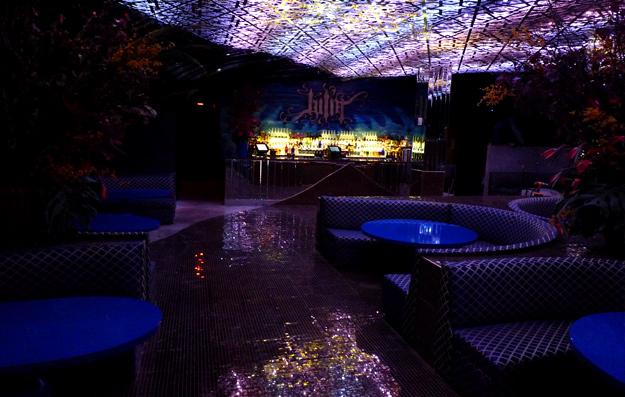 Drinks at Juliet Supper Club.
This is the poorly publicized event that I was talking about before, sadly. Invited through TheLuxurySpot.com to this Fashion Week kickoff event, I was sincerely thinking that dropping by the lounge after the play would be a good idea, a place to close out the night and an opportunity to check out a new venue, but by the time my guest and I arrived (around 10), the party seemed to be mostly over. A small crowd hovered around the bar, as per usual, and another little clump stood around the tiny pop-up Remington hair salon, but even the male dancer in the feisty red thong (yes, you're reading this sentence correctly) was alone and unappreciated on his little stage. Sadder still, no one even asked us to confirm our RSVP or provide ID, and no one greeted us but a bouncer whose sole concern was to check if we were 21. We contemplated turning straight around, but we'd already split the cab fare and it seemed only right to try one drink. One drink apiece turned out to be $32--and while that happens from time to time in Manhattan, imagine my surprise when the bill had a 20% gratuity already added on for us. Nearly forty bucks for two cocktails, plus the cab ride, and we'd well surpassed what we expected to pay to spend an hour at an event we'd supposedly been guests to--especially one that seemed to be almost over and not especially beneficial to us. Meanwhile, staff who didn't attempt to speak to us oversaw the photogs and straightened up the many well-placed Remington ads. As much as I hate to be criticizing, seemingly always, I was completely miffed that once again a PR team managed to overlook the very basics tenement of a successful sponsorship which is, in my estimation: One strategically placed, small Remington ad in the midst of a marvelous party full of people having fun and getting drunk is a better investment than a thousand giant banners draped all over a completely empty nightclub. IMHO. We bounced shortly after we hit the rocks at the bottom of our glasses and headed over to a local tavern where guys in t-shirts shot pool, beer was $4 a pop and then free once a gentleman decided to buy us a round. Much better than any fancypants kickoff party for a simple girl like Style Bard (ha).
This week actually stands to be much quieter, since I'm not
quite
earning invitations to the tents just yet. Not that I can say I identify much with high fashion in general, which is why I've always preferred the term "style" (obviously). But I do have some self-pampering lined up for Valentine's Day (plight of the single gal) and I will tell you all about that next week.